All Nippon Airways is a Japanese based airline that is based in Tokyo-Narita Int'l Airport. It serves 49 destinations in Japan and serves 32 international routes. ANA has a regional airline called ANA Wings and a charter carrier called Air Japan.
Operating Bases
Edit
These are the airline's operating bases.
Focus CitiesEdit
The airline was founded in 1952 and it operated services throughout Japan. Its first 747s were the SR variant, which was designed for Japanese domestic service. The airline also bought some 747-200s for these routes and later some 767s.
In 1999, the airline joined Star Alliance.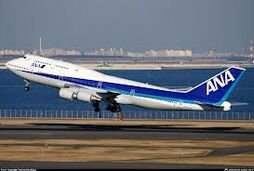 In 2009, All Nippon Airways was the launch customer for the 787.
In late 2014, the airline will be the launch customer for the A350.
Airbus A320-200
Airbus A320neo
Airbus A321
Boeing 737-700
Boeing 737-700ER
Boeing 737-800
Boeing 767-300
Boeing 767-300ER
Boeing 777-200
Boeing 777-200ER
Boeing 777-300
Boeing 777-300ER
Boeing 777-9X Boeing 787-8
Boeing 787-9
Mitsubishi MRJ-90
Community content is available under
CC-BY-SA
unless otherwise noted.