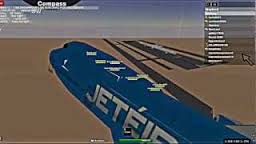 The Downtown Robloxia Mid-Air Collision was a collision between a Boeing 747-400 and a Boeing 757-200. In 2001, when the accident happened, this incident overtook the 1996 Charki Dadri Mid-Air Collision. This collision happened on November 11, 2001, and it took the lives of 393 people. The aircraft it collided was Delta Air Lines flight 482, a Boeing 757-200.
Flight Plan
Edit
Both planes took off early in the morning. At 7:23 AM EST, Delta 482 landed at Atlanta. At 8:31 AM EST, JetEire 191 landed at Robloxia. The last known time that any of the aircraft responded was at 9:59 AM EST, The collision occured when the JetEire flight experienced a wind gust and it rolled to the left a lot. The Delta pilot ran out of fuel right when they responded at 9:59 AM EST. They continued to Robloxia, and at 10:37 AM EST, the JetEire flight rammed the Delta flight. The JetEire flight flew straight down and killed all 353 people on board, but the Delta flight stayed airborne for a while and landed short near the airport at 10:57 AM EST. The momentum was so intense that 28 of the 180 people on board were killed. It also killed 12 people on the ground.
Community content is available under
CC-BY-SA
unless otherwise noted.