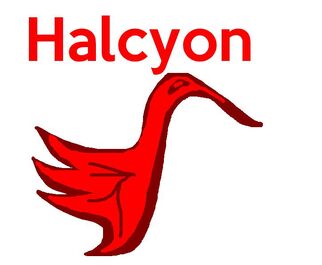 Halcyon Airlines is the official airline of The Halcyon Republic. The official founder of Halcyon Airlines was Whatznottoya, who was the CEO of the airline for 25 years.
After Whatznottoya resigned from his position, Halcyon Airlines went into a drastic change. Some good, some bad.
The new CEO of the airline was RBLXAddictionZ (pronounced like RobloxAddictionz). He was chill with his customers, employees, and staff, but he did not exactly know how to operate an airline. This was his first airline and this was his first time.
Due to majority vote, RBLXAddictionZ was convinced to give up the group to A330Hawaiian, who brought the group to nearly 4000 members until A330Hawaiian had to give the group to SirNauticalBreast.
On a flight, a few staff members got pissed at SirNauticalBreast for unknown purposes and they exiled almost all of the people in the airline. They eventually left and got arrested by Halcyonian police forces. SirNauticalBreast eventually advertised a lot and got the airline to a thousand members, and the airline still is growing.
| AIRCRAFT | AMOUNT |
| --- | --- |
| Boeing 737-800 | x25 |
| Boeing 747-400 | x6 |
| Boeing 767-300ER | x6 |
| Boeing 777-300 | x9 |
| Boeing 777-300ER | x6 |
Destinations
Edit
= HUB, ' = CARGO ONLY, " = BOTH PASSENGER AND CARGO
Alderaan *"
Ankrow
Annersat '
Ilkament (formerly Arroyo Ridge) '
Bellasara
Kneitgard (formerly Culpepper Village) "
Julinne
Tohondet (formerly Pepperdine) "
Knitsett (formerly Ridgegate)
VertilliaEdit
Kongesbar '
Toxtonos '
Kalian "
Toronto-Pearson
Vancouver
Apponium
Palladium
Merblay '
United States of AmericaEdit
Chicago-O'Hare
Dallas-Fort Worth
Houston-Intercontinental
Los Angeles
New York-JFK
Santiago
Baitwith
Robloxia "
Drayton '
Morningside '
Pruborne '
IntercontinentalEdit
London-Heathrow
Paris-CDG
Rome-Fiumicino
Shanghai-Pudong
Beijing-Capital
Rio de Janeiro
Sao Paulo-Garulhos
Tokyo-Narita
Seoul-Incheon
Guangzhou
Manchester
Frankfurt
Dusseldorf
Munich
Accidents and Incidents
Edit
None yet.
Community content is available under
CC-BY-SA
unless otherwise noted.