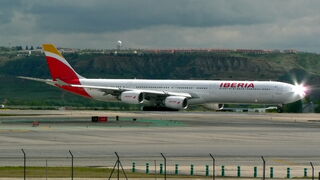 Iberia Flight 1694 was a regularly scheduled domestic passenger flight from Barcelona to Madeira, operated by an Airbus A340-600. On May 13, 2014, Engine No. 4 blew out of the aircraft damaging vital controls. The crew was able to make an emergency landing at Barcelona saving the lives of all 315 aboard.
Accident
Edit
The accident was caused by an uncontained failure of the No. 4 port engine.
At 11:12 AM Local time, the fan disk of the No. 4 engine explosively disintegrated. Shrapnel from the engine punctured part of the wing, damaging the fuel system, causing leaks and a fire in the engine, disabled all four hydraulic systems and the speed brake controls, caused engine no. 3 to go into idle, severed the right aileron, and the landing controls. The "ENG 4 SYS FAILURE" ECAM Message appeared as The cockpit crew heard a thump and declared a mayday call with ATC. The captain found out that the aircraft did not respond to the controls. Even if the plane was turning right, the first officer used the No. 1 and 2 throttles to keep the plane levelled and balanced. The captain used throttle power to turn back to Barcelona. Because the landing gear and flap controls were severely damaged, the landing gear could not function and the flaps would not extend. The captain used gravity drop to manually lower the gear, and it locked in place. The crew took 22 minutes to maintain pressure to the controls, by using the rudder and two remaining engines, and the aircraft was lined up for Barcelona.
At 12:45 PM local time, as the crew touched down the aircraft, the no. 1 touched the runway and four of the aircraft's left tyres blew during touchdown. The two tires in the left landing gear also blew when the plane hit the runway hard enough. After the touch-down only the No. 1 and 2 thrust reversers deployed, and the crew used maximum braking enough to stop the plane. No. 1 and 2 remained between 70% and 60% until the crew shut down 1 engine, but could not shut down Engine No. 2, until the emergency crews doused the engine and flameout was successfully achieved.
There were 34 minor injuries reported among the 291 passengers and 12 crew onboard, but no serious injuries.
Community content is available under
CC-BY-SA
unless otherwise noted.