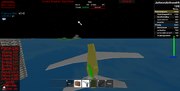 Jolteon Airlines flight 620 was a nonstop routine flight from Los Angeles Int'l Airport to Robloxia Int'l Airport. It was expected to take 5 hours.
Take off
With 220 passengers and 13 crew members, the 747 took off 15 minutes early(6:15 pm PST). 4 of the passengers in first class were considered hijackers and they succeeded at hijacking a plane once before(American Airlines flight 139). At 35,000 feet in the air, the hijackers stabbed the pilot and co-pilot and engineer and locked the cockpit door.
Crash
At 8:23 pm PST, the hijackers shut down all 4 of its engines. ATC was unable to contact the plane because the radio transmission was off. At 8:25 pm PST, the hijackers pointed the plane's nose down, attempting to crash it into their target, Robloxia Int'l Airport. Due to some gliding, the hijackers missed their target and the plane flew straight down and crashed into a million pieces. All 233 people on board, including the 4 hijackers, 3 cockpit crew, 10 flight attendants, and the 216 passengers were killed. No one on the ground was killed.
Community content is available under
CC-BY-SA
unless otherwise noted.